Kokedama Workshops
Learn about this ancient Japanese garden art form and have a go at creating your own Kokedama houseplant at our fun and engaging workshops.
Get your tickets here
About our Kokedama Workshops
Guided by our founder, Stefan Thomas, our Kokedama workshops provide the perfect opportunity for team building, quality time with friends and family, or even for like-minded societies interested in gardening and lifestyle. Our workshop events span across the UK, around the Midlands and in London. 
In these engaging sessions, you will learn the ancient Japanese art of Kokedama and string gardens, which involves creating stunning living sculptures by encasing plant roots in a moss-covered soil ball. Under Stefan's expert guidance, you'll uncover the secrets of plant selection, proper care, and the delicate art of binding your Kokedama. Whether you're a novice or an experienced green thumb, our tutorials are tailored to cater to all skill levels, making it a delightful experience for everyone.
Kokedama Workshops for Businesses
For businesses seeking a unique and refreshing team-building experience, our Kokedama workshops offer a fantastic opportunity to foster collaboration and creativity among employees. We are flexible and can cater to your specific workshop needs, ensuring that your team departs with not only beautiful Kokedama creations but also lasting memories of a memorable bonding experience.

Don't hesitate to get in touch with us if you're interested in booking a team workshop or have any special requirements. We're dedicated to making your Kokedama workshop experience a memorable and fulfilling one. 
Online Workshops
Whether you're separated by miles from your friends or planning a unique hen party, our virtual workshops are the perfect solution. We'll send all the necessary materials right to your doorstep, then, via video call, our expert instructors will guide you step-by-step, helping you to craft your own stunning Kokedama masterpiece. It's a fantastic way to bond with friends, even when miles apart, or add a creative twist to special gatherings. Book tickets to our public online events or contact us to book a private online workshop.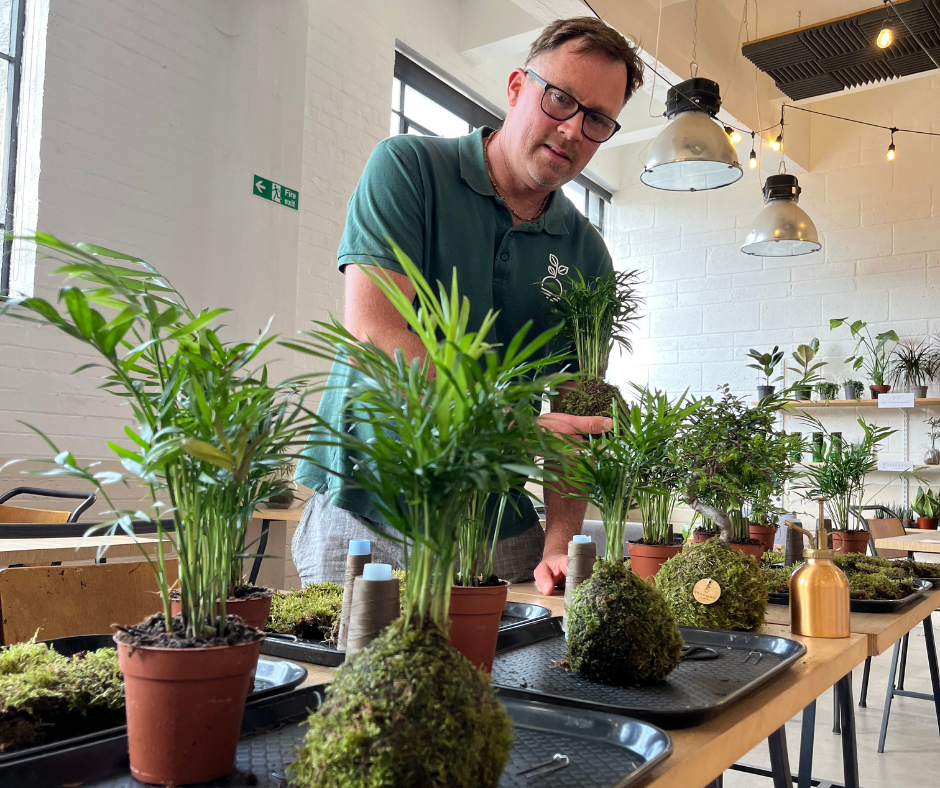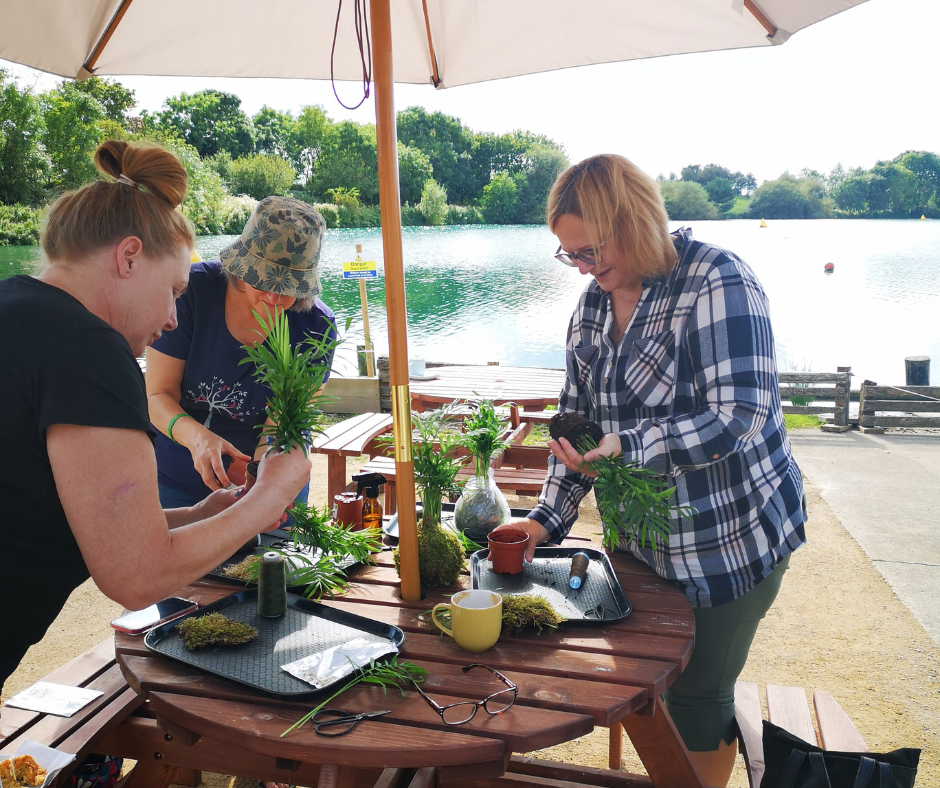 Bring People Together with Kokedama
The sessions are ideal as a fun
activity for organisations, societies, friends, and even businesses for corporate team building sessions.
Ran by Founder Stefan Thomas

Meet the Plant You Will Make

Locations and Pricing
Stefan, the Founder of Tranquil Plants, has a clear mission to inspire individuals and organisations to embrace plants as integral parts of their lives.

Stefan leads our Kokedama workshops, spreading his knowledge and passion to all who wish to explore the world of Kokedama.
The Parlour Palm is a beloved houseplant renowned for its elegant and compact appearance. With its feathery, arching fronds and slender stems, it adds a touch of tropical charm to any indoor space.

This low-maintenance plant thrives in low to moderate light conditions, making it an ideal choice for homes and offices. Its resilience and air-purifying qualities further enhance its popularity.

At our workshops, you will create a Kokedama with our beloved, easy care Parlour Palm to take home with you.
We run Kokedama workshops in London and the Midlands (Leicestershire) or, when requested, with a group of over 15 people at £25 to £35 per person depending on number and add-ons.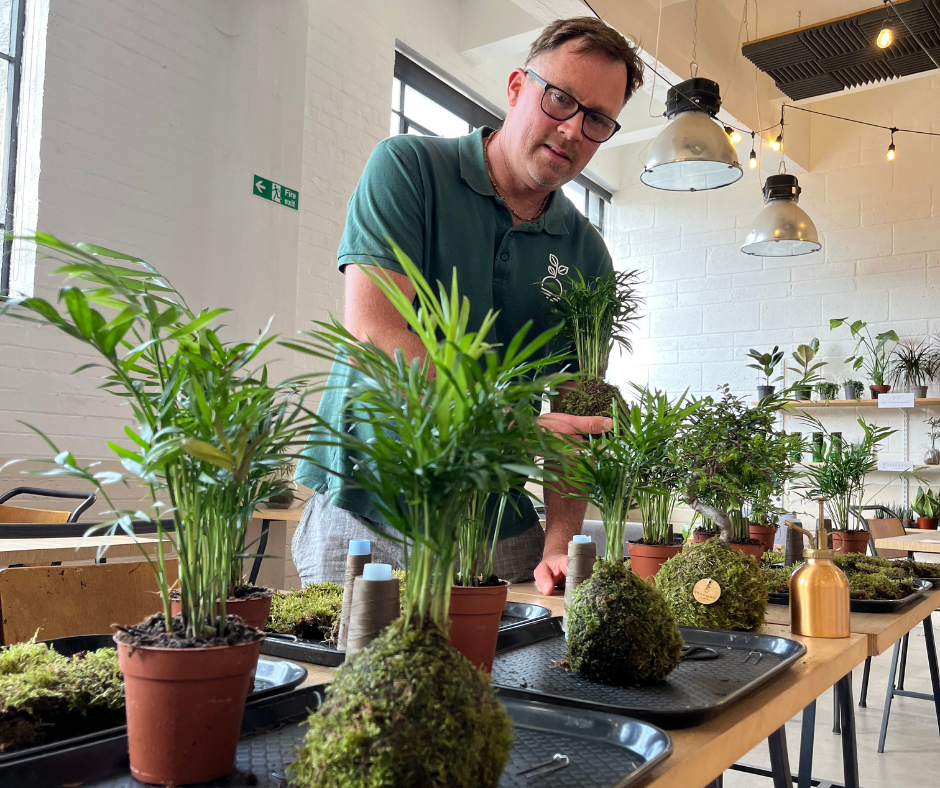 Hear from our clients
Our workshops were amazing and a great experience for all. We had 4 workshops with Tranquil Plants as part of our 'It's in our Nature' campaign. The workshop blended in excellently with their ethos and environmental approach.

Gallery Clerkenwell London

"We were delighted with the recent presentation and demonstration by Tranquil Plants of the Japanese technique of Kokedama"

The Midlands Region of the Japanese Garden Society
Workshops for Businesses and Corporations
Choose any Plant

Choose any plant from our collection at your workshop. Pictured above is our Bestselling Fresh Air Palm Tree that customers love because of its easy care nature and its air-purifying qualities. It takes 22 tons of carbon in its life span!

Japanese String Garden

We will gift you Beautiful Eco-friendly Jute Adjustable Hangers in our workshops to pair with your newly created Kokedama plant, so that you can create a Japanese string garden in your home.

We Cater to your Requirements

We can come to your office, cafe or establishment. We can also provide unique refreshments like carrot cakes with edible flowers and flower blossoming tea. We can discuss and cater to your ideas to make your workshop special.  
Submit your Workshop Enquiries Below